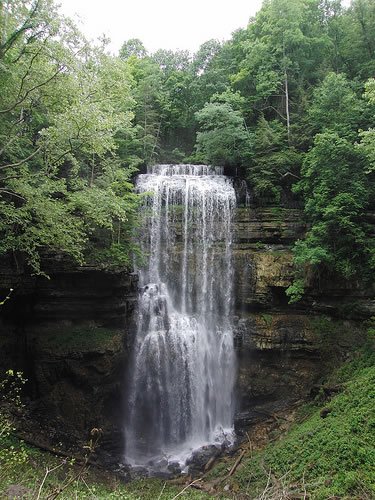 Geology and Mother Nature have combined to create a stunning setting for Falls Creek Fall State Park and have made for one of the most spectacularly scenic outdoor recreation areas in North America. Of all the topographical features to be enjoyed and appreciated, it's the waterfalls of Falls Creek Falls Park that are the most breathtaking and they also present glorious panoramas from their overlooks.
The Park is centered on the upper Cane Creek Gorge which stretches for 15 miles from Cane Creek Cascades to Cane Creek's mouth on the Caney Fork River. From its source on Little Mountain on the Eastern edge of the Cumberland Plateau it winds north dropping several hundred feet at various junctures and absorbs other lesser creeks along its course.
At various points where the creek and the plateau loses elevation, the stunning waterfalls of Falls Creek Park are formed including the eponymous waterfall which is the highest free-fall waterfall east of the Mississippi River.
The waterfalls of Falls Creek Falls State Park are:
Cane Creek Cascades (45ft)
With plunge pools and scenic trails connecting the falls, the attraction of the water features of Fall Creek Falls State Park are further enhanced by man-made Falls Creek