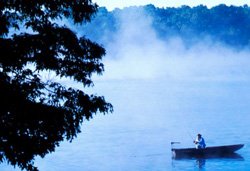 With so much water in and around Fall Creek Falls State Park, fishing is among the most popular recreational opportunities for visitors. During your Fall Creek Falls vacation, you will want to set aside some time to cast your line. With species ranging from Bluegill to Large Mouth Bass, the opportunities to catch a big one are plentiful. Whether you are fishing streams along Cane Creek or dropping your line in Fall Creek Falls Lake you are bound to enjoy a productive and relaxing day of angling.
The park is stocked each year and several record fish have been landed within the park boarders. All applicable Tennessee Fishing Laws apply within the park boundaries, and you will be required to have a Tennessee Fishing Licensing. Licenses can be obtained in several areas retail outlets, and are very reasonably priced. If you choose to fishing on the Fall Creek Falls Lake, you will need to rent a boat from the park. Retails are available daily and they are quite inexpensive. No motorized boats are allowed on the lake, but you can easily access the hottest fishing spots within minutes. With all of this in mind, set aside a day and take the family fishing at this wonderful Tennessee State Park.
For more information about fishing in and around Fall Creek Falls, the Tennessee Fishing Guide is a great resource.